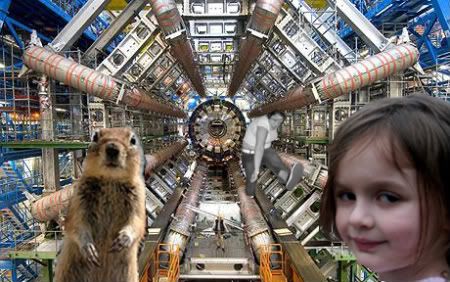 All matter is made up of atoms, and atoms are made of electrons, neutrons, and protons. Peter Higgs hypothesized that all of these subatomic particles are made of one universal and uniform sub-subatomic particle which he humbly called the Higgs boson, a.k.a. the 'God particle.'
One of the things the Large Hadron Collider is supposed to do is to find out if the Higgs boson actually exists. They still haven't found that out yet, but what they have done is they made an audio simulation of what results from LHC experiments where the Higgs boson exists would somehow sound like. From the BBC:
The aim is to give physicists at the LHC another way to analyse their data. The sonification team believes that ears are better suited than eyes to pick out the subtle changes that might indicate the detection of a new particle.
My hope is that this is all a cover for an expansion of CERN's musical endeavors. Maybe they are starting their own record label. Anyway, someone put one of the clips of the sonification of the Higgs boson into a YouTube video with a unicorn, and here it is. Please fap to it now.